Extra Golems Mod 1.10.2/1.9.4/1.8.9 For Minecraft
Advertisement
Extra Golems Mod 1.10.2/1.9.4 For Minecraft. The modification has a remarkable functionality that allows a player to create a golem according to their desire. Previous to this mod there was only one type of golem was available but now you can have all you like. This tool will allow you to have more than thirty five different characters and ability to modify them as well.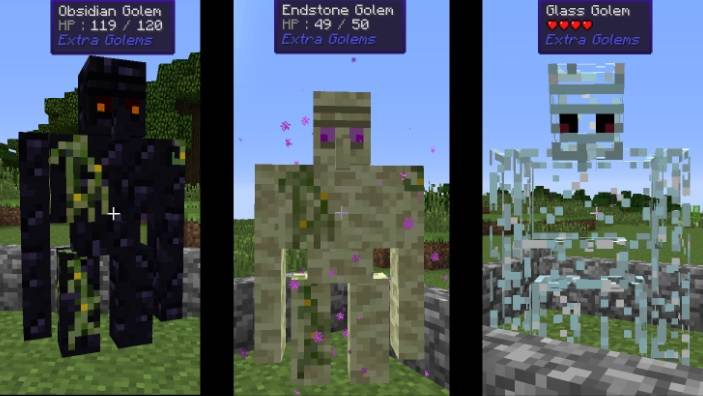 Similarly there is a spell combination required to work with this one. Each golem spell will require 1 Feather along with one redstone, ink sack and one paper crafting grid. The head can be mode up after combining Golem spell and pumpkin. We assume that you will have alot of fun while using this modification.
Guide how to create:
Make a Golem Spell by combining 1 Feather, 1 Redstone, 1 Ink Sack, and 1 Paper in a crafting grid.
Make a Golem Head by combining a Golem Spell and a Pumpkin — the block looks the same because all you did is stuff a magical paper inside.
To build a golem, start by placing blocks in a 'T' formation, similar to the Iron Golem layout. Finally, place a Golem Head on top. Once created, golems act like vanilla Iron Golems, killing monsters left and right and defending your fort / base / testificate prison.
Extra Golems Mod 1.10.2/1.9.4/1.8.9 Download
For Minecraft 1.10
Release Date:
24th June, 2016
Version
v6.01
File Size:
642.11 KB
Supported version:
Minecraft 1.10
Author:
sky01
Download (Direct):

Download (Curse):

Extra-Golems-Mod.jar
For Minecraft 1.9.4
Release Date:
2nd June, 2016
Version
v6.01
File Size:
622.69 KB
Supported version:
Minecraft 1.9.4
Author:
sky01
Download (Direct):

Download (Curse):

Extra-Golems-Mod.jar
Extra Golems Mod 1.10.2/1.9.4/1.8.9 Installation:
To get the mod working first you need to install Minecraft Forge, make sure it matches your game version.
Tip: Forge is an API that lets you run multiple minecraft mods simultaneously without compatibility issues
After installing Forge, download and save the mod .jar file to your computer.
Now you need to open Minecraft installation directory.
To do that, Open Minecraft launcher, click "Edit profile" and then click "open game dir" from the bottom.
Now open "mods" folder, if you don't find it, create one.
Drop the mod JAR file into the mods directory. Do not try to extract or unzip it.
Launch Minecraft using Forge profile. The installation will automatially continue.
Enjoy.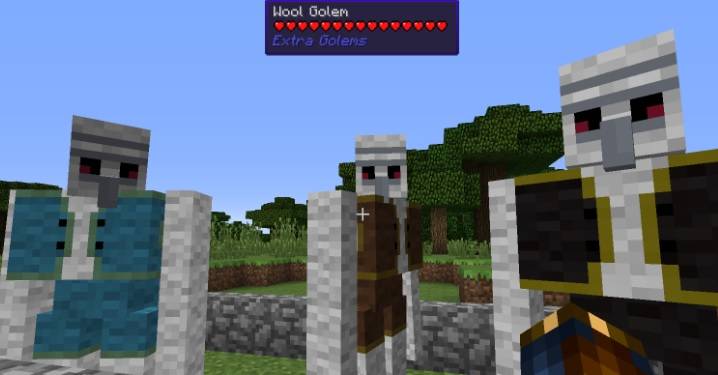 There has been few key points on which we were working. One of them is ensuring that a player will get the most secure content with any irritating advertisements. Second of them is the legit mods which were released officially by the developers and we make sure that we mention their name and the source as well. Thirdly we always try to improve with the passage of time and thats why we need your precious suggestions in order to improve ourself. So please share you thoughts through comment box and don't forget to comeback here to check the latest updates of Minecraft.