Treecapitator Mod for Minecraft 1.12/1.11.2/1.10.2/1.9.4
Advertisement
Treecapitator Mod for Minecraft 1.12/1.11.2/1.10.2 is a useful tool and previously known as Timber mod for Minecraft. The basic function of this mod is to chop and crush down the trees and use it by harvesting its logs.The tree-cutting is a very useful factor in the Minecraft and the detection of the trees is one major aspect.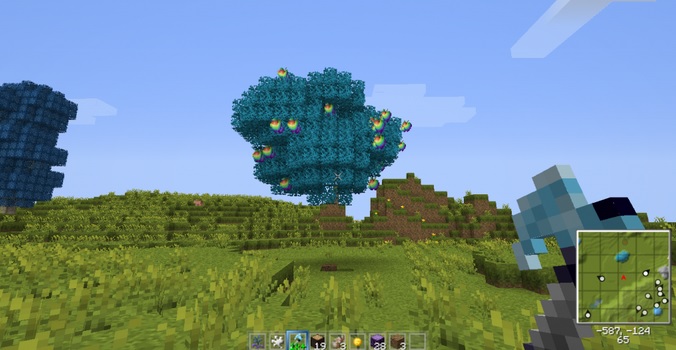 Core Features of TreeCapitator Mod 1.12/1.11.2/1.10.2/1.9.4 :
Tree Detection:
Trees can be judged as the total counting of the leaf blocks. Although it can be checked with with the straight column of the logs as well.
Now if the top block contains three or more leaf block the code considers the logs as a tree.
But if in case the block doesn't have 3 neighboring leaf block then code will consider it as the block breaking.
Item Damage:
The unbreakable items like Axes and Shears won't break.
The damage will be applied on the blocks in the form of chain.
Destroying Leaves/Vines:
The most important thing about shearing vines that it doesn't get every vine It seems to favor vines hanging on the Western face of the tree.
So keep this in your mind that destroyLeaves setting MUST be set to true in order for shearLeaves or shearVines to work.



Treecapitator Mod for Minecraft 1.12/1.11.2/1.10.2/1.9.4
For Minecraft 1.12
Release Date:
26th June, 2017
Version
0.9 Universal
File Size:
157.47 KB
Supported version:
Minecraft 1.12
Author:
bspkrs
Download (Direct):

Download (Direct):

Tree-capitator-Mod.jar
Updated Summary
Installation Guide for Treecapitator Mod 1.12/1.11.2/1.10.2/1.9.4
Follow these steps to add this mod into your Minecraft.
Always keep the backup of Minecraft files.
Download the latest version or required version of Forge API.
Now grab the modification file from Minecraftyard.
Go into Minecraft folder and open mods folder.
Place the downloaded file into mods folder.
Now launch Minecraft and have a thriller.
Note: Fans have to keep patients in order to get the latest versions. The developers are working day and night to produce the bug free version and it take a certain time period to do so. The official version will be available online as soon as its release. So keep playing your favorite game and come here to get the latest updates.
Source: here