Mine Little Pony Mod for Minecraft – MinecraftYard
Advertisement
Mine Little Pony is a modification for Minecraft inspired by a popular kids TV show called "My Little Pony: Friendship is Magic". This mod lets you transform Minecraft player models into Ponies, it works on both Single and Multiplayer platform. Upon installing, you have have options to customize your armor, mobs, HD skins and many crafting customizations. Mine Little Pony has 6 unique Pony Types namely, Pegasus, Uinocrn, Alicorn, Zebra and Changeling.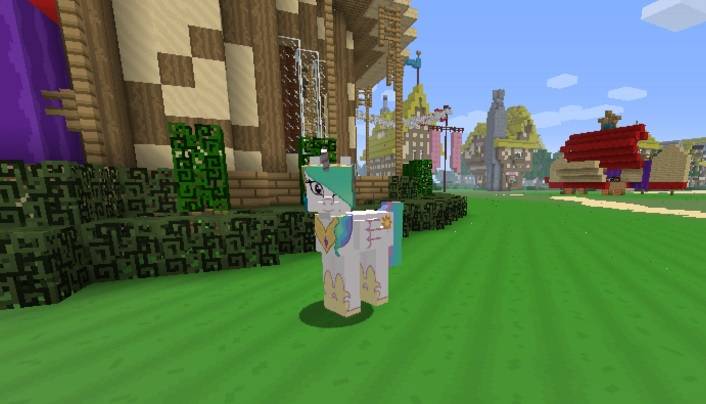 This mod is entirely client sided and backward compatible with original player skins. People who don't have this mod will view you as default player model.
From Mod Faq: Users of HD Skins from older versions of MineLittlePony will need to open the HD Skins menu and click "Use Legacy" to migrate their skins to the new Minecraft naming scheme.
Mine Little Pony for Minecraft Download
For Minecraft 1.11.1/1.10.2 – Available after release.
For Minecraft 1.7.10
Release Date:
23rd July, 2014
Version
1.7.10
File Size:
663 KB
Supported version:
Minecraft 1.7.10
Author:
VoxleModPack
Download (Direct):

Download (Curse):

Mine-Little-Pony-Mod.jar
How to Mine Little Pony mod:
There are few steps which should be followed according to the protocol.
Please have backup of Minecraft folder before making any changes to it.
Forge API for Minecraft is ususally required to have the latest version or make sure you have it.
So after that download the modification from this post.
Usually you have to locate the .minecraft folder and put the modification file in it.
Put all the downloaded files in the mods folder.
So now you have it. Just initiate the Minecraft and there you go.
Enjoy every joyful ride to play your favorite game with this mod.
We do not believe in disguising the players through improper information. Additionally we do not provide any fake or broken links because we know the implications of this act in the future. Thus, we require some assistance from the community to improve our quality. We seek some guidance and suggestion through comment section to better the quality of the users.