Dense Ores Mod by RWTema – MinecraftYard
Advertisement
Dense Ores Mod 1.10.2/1.9.4/1.9 for Minecraft is a simple yet elegant modification which works in an organized pattern. Usage of this tool will allow a player to get 3 times more items when they destroy ore block. It will help a player to get their work done in a shorter period of time and there is also a possibility to get multiplied ores as well. It will be called fortune ores.


The tool is really sophisticated and it will bring a great quality into the game. Additionally the texture quality of the dense ores will be generated randomly which help out the player to distinguish it from other ones.  In addition new ores can be added through the config system. So check it out yourself.
Download Dense Ores Mod for Minecraft 1.10.2/1.9.4/1.9
For Minecraft 1.10.2 and 1.9.4 – Please be patient. Available after release.
For Minecraft 1.8.9
Release Date:
8th March, 2016
Version
2.0.0
File Size:
 106.81 KB
Supported version:
Minecraft 1.7.10
Author:
RWTema
Download  (Mod – Direct):

Download  (Developer):

Dense-ores-.jar
For Minecraft 1.7.10
Release Date:
19th April, 2015
Version
1.6.2
File Size:
 59.21 KB
Supported version:
Minecraft 1.7.10
Author:
RWTema
Download  (Mod – Direct):

Download  (Developer):

Denseores-1.6.2.jar
Dense Ores Mod 1.10/1.9.4/1.9 Minecraft Download  
Install Minecraft Forge by running the installer, and installing for client
Put the downloaded files contents into the 'mods' folder.
'mods' folder can be found in your .minecraft folder.
NOTE: You will have to open up the zip to see these jars and extract them to the .minecraft/mods folder.
Always keep backup of Minecraft folder.
Have fun playing this modification.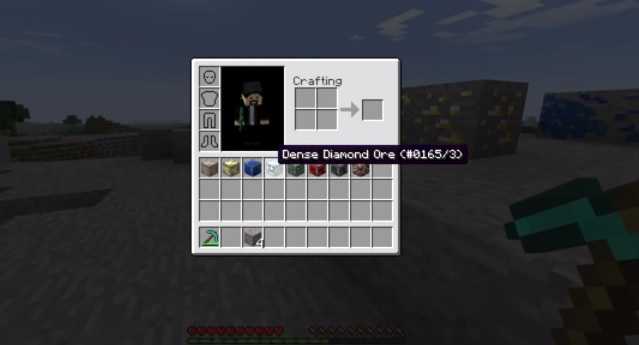 We usually are very strict towards the distribution of content. Our aim is to provide legit content with zero tolerance towards the fake or broken links. However, we seek some support from the community to get better and better as the days are passing through. So give your precious suggestion through comment section. We would be really thankful to you.
Origin