Optifine HD 1.11/1.10.2/1.9.4 – Extreme Minecraft Graphics
Advertisement
OptiFine HD 1.11/1.10.2/1.9.4 is a mod that was created exclusively for Minecraft during its Alpha days. It is backbone of Minecraft video performance. It enables players to run Minecraft on lower End PC's without compromising on the graphics quality. People who have high-end gaming rigs can also utilize OptiFine's Shader capabilities that provides next generation FPS games' visuals to the Minecraft. If you are tired of Minecraft lag and huge drops in frame rates, I recommend you to install OptiFine for once and say good bye to performance issues. Recently, the developer Sp614x added Dynamic Lights to it. Now light spreads dynamically instead of emitting in a constant manner.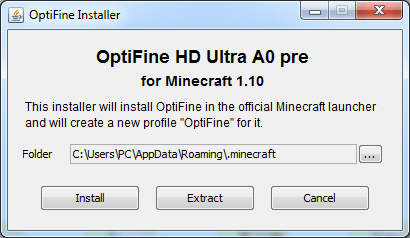 Pro-tip: Use Optifine if you are using resource pack (textures) above 32x resolution. That way your Minecraft will never crash on Launcher.
Pro-tip #2: Use 64-bit version of Java to allocate more memory to Minecraft launcher.
Optifine HD 1.11/1.10.2/1.9.4 Download: 
Developer: Sp614x
Version No: HD_U_C3 Forge
File Size: 1.66 MB
Supported Version: Minecraft 1.10.2
Last Updated On: Sunday August 17th, 2016
For Minecraft 1.10.2 (Direct) :  Opti-Fine_1.10.2.jar 
For Minecraft 1.10.2 (Alt) : Opti-Fine_1.10.2.jar 
For Minecraft 1.10 (Direct)  –  OptiFine-HD.jar  
For Minecraft 1.10 (Alt) –  OptiFine-HD.jar 
How to get OptiFine HD 1.10/1.10.2/1.10.3 running or Installation?
Answer: OptiFine HD now comes with a JAR installer, double-click the launcher and it will automatically guide you the rest. Once you click install. It creates a new profile in Minecraft launcher. Select that profile and click "Play", OptiFine will be running in no time.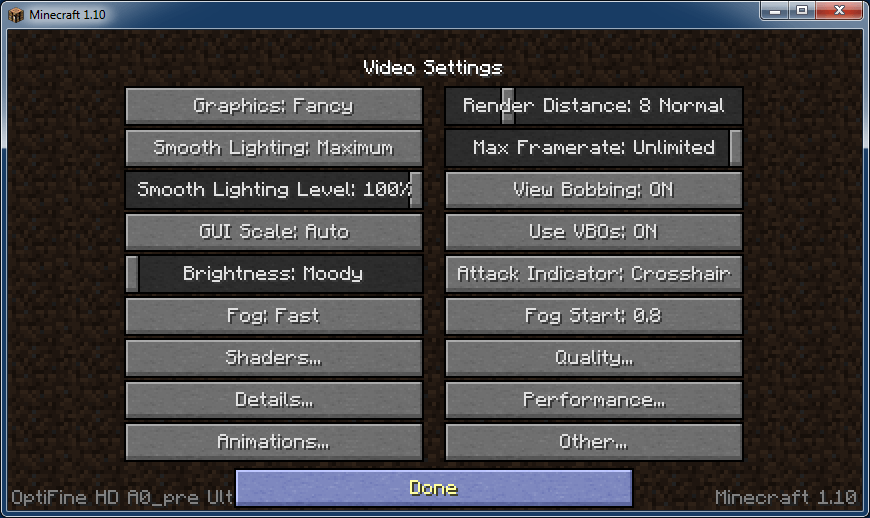 Optifine HD Frequently Asked Questions (FAQs)
Please Note: Download the mod version according to your game version. It will come as JAR (java) extension. Do not try to extract its files using WinRAR or any other archiver.
How do I run HD Resource packs with OptiFine?
Answer: Once you have installed OptiFine, just put the resource pack into "resourcepacks" folder in Minecraft installation directory. (%appdata%/.minecraft)
How to install Shaders or Shaderpacks?
Answer: OptiFine comes with Shaders by default. But in order to run Shader graphics, you need to put it in "shaderpacks" folder in root directory. On Minecraftyard, you will find many shaderpacks such as Sonic Ether's Unbelievable Shaders, Sildur Shaders, Continuum Shaders
Which version should I download? Ultra, Standard or Light?
Answer: It depends. If you are running a multi-core processor such as Core i3, i5 or i7, go for the ultra version. If you are running Core 2 Duo or ATOM processor get Standard version. Pentium 4 or below should get the Light version. If you are unsure about your Computer specifications, get the Standard version.
Is there a Pocket Edition (MCPE) version of OptiFine?
Unfortunately, OptiFine currently has support for Java based PC version.