Custom Sky Resource Pack 1.11.2/1.10.2/1.9.4 Minecraft Download
Advertisement
Custom Sky Resource Pack is a set of textures for Minecraft 1.11.2/1.10.2/1.9.4. This pack replaces the boring Vanilla sky textures with awesome looking space textures. Unfortunately, this resource pack requires you to install 3rd party mod OptiFine (or MCPatcher) to add custom sky. But I am telling you it is worth it. Custom Sky rotates 24/7 which makes it visually appealing, works on both day and night cycle.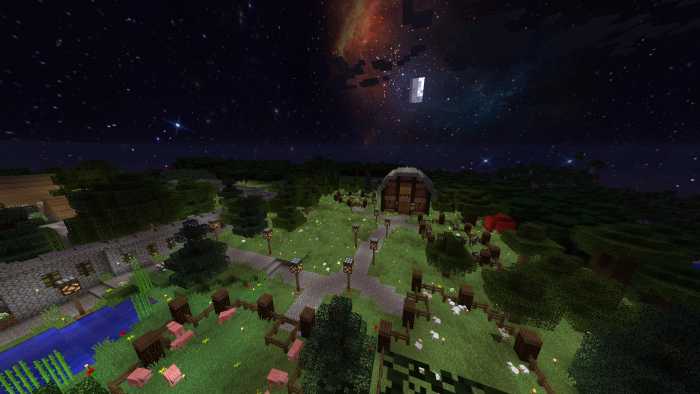 Combined with Shader packs such as SEUS and Continuum Shaders, you can create amazing looking wallpapers and stunning looking in-game world that you will never stop looking.
Custom Sky Resource Pack 1.11.2/1.10.2/1.9.4 Minecraft Download
For Minecraft 1.9.4
Release Date:
14th February, 2015
Version
1.9.4
File Size:
6.55 MB
Supported version:
Minecraft 1.9.4
Author:
JerenVidsPC
Download (Direct):

Download (Curse):

Custom-Sky-Resource-Pack.zip
How to get Custom Sky Resource Pack 1.11.2/1.10.2/1.9.4 Running:
– Install OptiFine according to your game version, MCPatcher can also do the job.
Tip: OptiFine now comes with Shaders by default, so if you have a beefed up PC, try using Sonic Ehter's Unbelievable Shaders for more eye candy
– Download the Custom Sky Pack from link mentioned in this page
– Browse to Resourcepacks folder (press WinKey+R, type %appdata%/.minecraft/resourcepacks and hit Enter)
– Move the Custom Sky zip file there, do not extract it.
Note: We are proudly mentioning that we don't provide any fake links right here. Additionally we check each and every tool with famous antivirus and malware bytes which eventually minimize the risk of suspicious files.
We are open for positive criticism and If you think that something requires a change then do not hesitate to share your though through comment section. So have fun playing Minecraft.